Tuesday July 25th 2017
Safe staffing in maternity services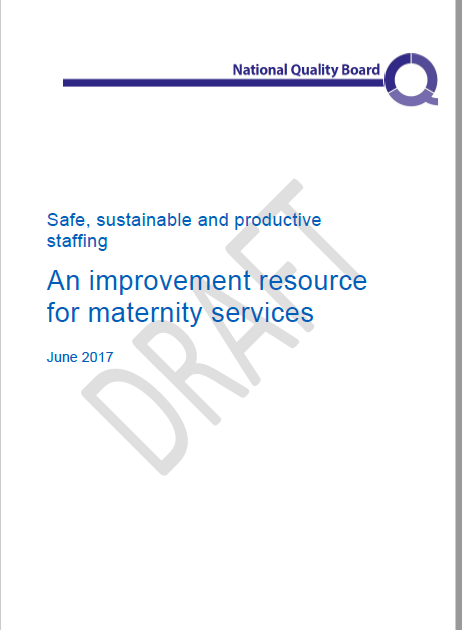 In March 2015, the Kirkup inquiry into unnecessary deaths in the maternity unit at the Morecambe Bay NHS Trust published its findings. In an uncomfortable echo of the Francis Inquiry into deaths at the Mid Staffordshire NHS Trust, Kirkup found that failure to hear from patients was an underlying cause of repeated errors. "The treatment of complainants... exemplified the problems commonly reported, including defensive 'closed' responses, delayed replies, and provision of information that complainants did not find to be accurate".
In April 2017 the Secretary of State for Health ordered an investigation into deaths in the maternity unit at the Shrewsbury and Telford Hospital NHS Trust. It seems likely that staff attitude and communication will be examined.
In this context, we welcome a consultation by NHS Improvement and the National Quality Board on safe staffing in maternity services.
Our response will make the point that safe staffing is not just about staff/patient ratios, shift patterns and skills and proficiency. All of these matter - but so does patient voice.
The consultation document refers to "Patient, carer and staff feedback" and lists seven different sources of patient feedback. It states that areas of concern highlighted by women and families must be carefully scrutinised. It does not, however, say who should carry out the scrutiny, or how.
Staff in maternity services work in busy environments that are physically and emotionally demanding. It is not reasonable to expect them to plough through multiple sources of patient feedback, trying to make sense of them. We have already made the point that patient feedback systems are cluttered, confused and hard to understand.
Ideally, maternity staff would turn to patient experience leads for help. Other evidence shows that hospital staff find it hard to act on patient feedback, and need "organisational readiness" - back-up from other parts of the system - to be able to use feedback to increase safety and drive improvement.
But patient experience leads are not always well supported, and lack parity with their clinical colleagues. NHS clinicians work in a culture that consciously develops their expertise. So they have access to comprehensive professional databases to guide their practice and professional development. Patient experience leads have a similar need for access to knowledge. And yet they are expected to resort to Google. That's not sensible, and it's not safe.
Safe practice depends on hearing the patent voice. And safe staffing depends on teamwork. Maternity staff cannot be experts in everything - they need help from "the team beyond the ward". That wider team includes patient experience leads. And they - like maternity staff - need to be better supported.
The consultation on safe, sustainable and productive staffing in maternity services is here.
Monday July 17th 2017
How reliable are filmed patient stories?
Are filmed patient stories a good thing? There seem to be more and more of them about, so they must be popular.
Perhaps that is because film-making is so much easier nowadays than it used to be. Filmed testimony can also be more compelling than a written report. And let's face it - in today's busy world, anyone who has a choice between a two-minute film clip and a twenty page report might well settle back and reach for the popcorn.
Our Featured Report this week, however, sounds a note of caution. The authors note that:
- It can be assumed that patient testimony is particularly raw and honest. But narrative theorists see stories not so much as truth, but as the crafting of truth to propel and reshape meaning. Patients sometimes have agendas of their own.
- Some people are better able to articulate complex care experiences, or have greater "on screen" charisma than others. They can become more influential "stars" than other participants in patient films.
- The "talking head" format can appear to offer a direct and unmediated window into the experiences of patients. But the editing process necessarily fits talking heads within a structured narrative, directing thoughts in some ways, and limiting others.
The authors conclude that "there is something inherently fragile, or fluid, about patient narrative as a form of valid knowledge". Challenges include those listed above. But at the same time, patient film work can counter the "dumbing effects of questionnaires" and the "blindness to patients [caused by] heat maps and endless data collection".
This paper will offer plenty of food for thought for anyone involved in committing patient experience to film.
Tuesday July 11th 2017
GP Patient Survey results - should we be worried?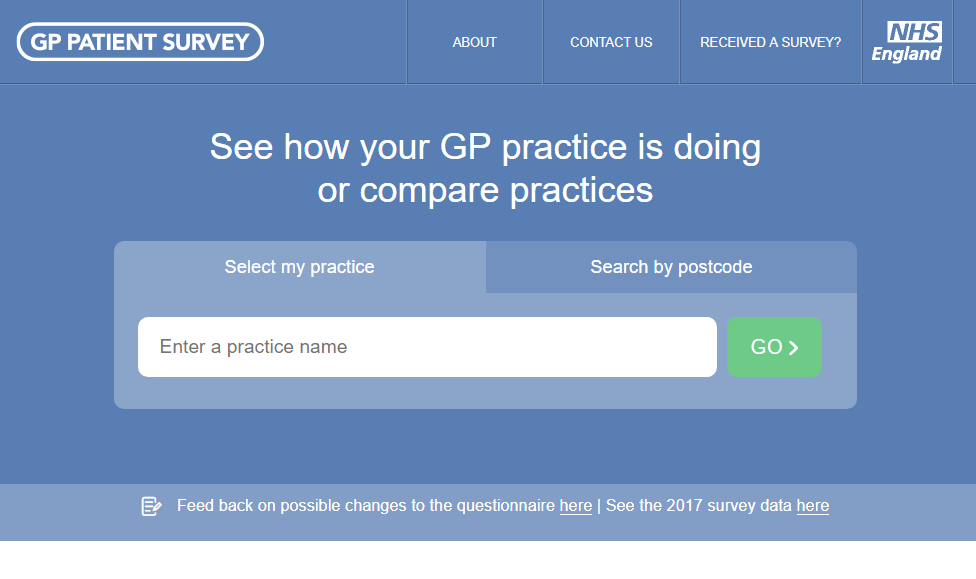 "...surveys are a valuable resource for monitoring national trends in quality of care [but] may be insufficient in themselves to fully capture patient feedback, and in practice GPs rarely used the results of surveys for quality improvement."
This observation, from "Improving patient experience in primary care" is worth considering alongside the results of the 2017 GP Patient Survey, newly published by NHS England.
The survey provides information on patients' overall experience of primary care services and their overall experience of accessing these services. The key findings contain plenty of good news - for example, that 85% of patients rate their overall experience of their GP surgery as good, and that 87% say the receptionists at their GP surgery are helpful.
The downside is that for every single key finding under "overall experience" and "access to in-hours services", patient experience has decreased since 2016. Sometimes it's not by much - 0.3% for "convenience of appointment" for example. Other decreases, however, are larger, and NHS England makes the point that "Given the size of the survey, even small changes in percentages are likely to be statistically significant".
Should we be worried? Well, yes - on two counts. Firstly because Sustainability and Transformation Plans, with their mantra of "care closer to home" will rely on primary care services to help keep the pressure off acute services. Any reduction in patient experience of primary care must be worrying for STP leaders.
The second cause for concern is that, as stated by the National Institute for Health Research, "While the GP Patient Survey data for any given practice is used as part of its CQC inspection record, there is no standard requirement for practices to review that data or act upon them. As a result there are wide variations in the use of the data and the value that can be derived from them".
So we know two things about the 2017 GP Patient Survey results. One is that there are statistically significant declines in patient experience since 2016. The other is that GPs don't have to do anything about it. That's not to say they won't. But at the whole system level, we have an NHS that seems content to gather patient experience data, while acknowledging that "there are wide variations in the use of the data and the value that can be derived from them".
All STP's make reference to "improved patient experience" as an outcome from the "whole system" transformations they propose. The GP Patient Survey indicates room for improvement within primary care - the absolute front line of public engagement with the health system. How will STP partnerships respond? We shall see...
Get the 2017 GP Patient Survey results here
Monday July 10th 2017
Patient voice is our canary in the coalmine. Let's make sure we can hear it.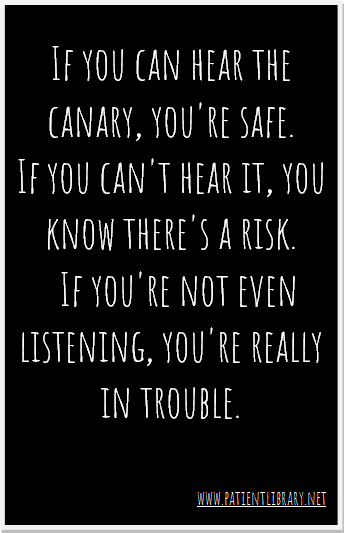 We are all patients in the NHS. We know, from personal experience, what the difference is between good and bad patient experience.
So why, when the NHS as a whole tries to understand patient experience, does it make such a dog's dinner of it?
The NHS collects a mountain of evidence on patient experience, from sources including the NHS Friends and Family Test, Care Quality Commission patient surveys, the GP patient survey, local Healthwatch reports, and online feedback tools like NHS Choices star ratings. On top of that it piles further information from local questionnaire surveys, focus groups and public meetings. And on top of that are all the compliments and complaints that come directly from patients.
All these datasets present different information in different ways, so it is very difficult to collate them, or make meaningful comparisons. In addition, the quality of some of the data is questionable.
The NHS has plenty of data on patient experience. It's just that no-one can make sense of it all.
Plenty of studies have made exactly this point. A 2015 report entitled "Making Sense and Making Use of Patient Experience Data" had this quote from a patient experience lead: "We are data rich, but we don't bring it all together (national surveys scores and comments). It's a nightmare to see what's going on. Trying to triangulate between 12 different data sources coming from different angles, presented differently..."
Another report - the 2016 Carter Review - said "...hospitals and commissioners were often looking at different datasets and from different perspectives with inevitable disagreements."
Companies in the commercial world use customer experience as a driver for service improvement. They understand the value of feedback from the general public, and make sure that collection and analysis is clear and purposeful. It is hard to imagine a big corporate allowing its outlets to muddle through heaps of customer experience data gathered from dozens of incoherent sources.
Patient experience - like customer experience in the commercial world - can be understood. But understanding it depends on having a consistent analysis of evidence drawn from reliable sources.
We need to sort through our mountain of evidence on patient experience. We need to pick out a few reliable sources that have proven value in guiding policy and practice. Then we need to stick with them. If some sources are not very good, we need to be very brave, and say so. Then we need to stop using them.
In the NHS, the patient voice is the canary in the coalmine - the early warning system that can alert us to potential problems. We need to hear our canary. But we don't need to hear canaries, chaffinches, woodpigeons, crows - the whole darn woodland. Why not? Because that's just noise.
A 2015 report, "Beyond Metrics?" described the proliferation of patient voice measures as "adding more to the noise without amplifying the signal". And the problem with noise is that people can't make sense of it. So they stop listening - they screen it out.
In the coalmine you know that if you can hear the canary, you're safe. If you can't hear it, you know there's a risk - and then you can act. If you're not even listening, you don't know where you are. And then you're really in trouble, because you don't know what to do.
Tuesday July 4th 2017
Beware zombies and unicorns
"Lack of clarity on what PPI is (or might be) has given rise to a poorly monitored, complex field of activity..."
This statement is the opener to a paper described by its own authors as a "provocation". Their concern is that the investment of time and resources in much patient and public involvement (PPI) is taking a form of "busywork" - i.e. a time-consuming technocratic distraction.
They remark that Ironically, the notion of the usefully participating, evidence-engaged patient or citizen has become ubiquitous at the same time as ignorance and "bullshit" have been successfully harnessed as resources in "post-truth" politics".
The paper reviews the development of patient and public involvement in health research, and observes that "there is a lack of consensus about what effective PPI in research processes might look like and... little conclusive evidence about the best (or worst) ways to invoke PPI in research design, research practice, or research commissioning".
An underlying problem is that "Different models of PPI carry distinctive and sometimes contradictory assumptions about the types of public to be involved, the knowledge those publics might bring to bear, and their degree of involvement in decision-making processes."
Furthermore, people who step forward as patient/public representatives have varying motives for doing so. Some are "predominantly concerned with promoting and defending their own interests and values against other participants" while others "view themselves as interdependent members of a social collective and [are] oriented towards collective ends and the common good".
The authors conclude that "formal PPI can be seen as a ghastly composite of a zombie policy that continually pops up, offering (but never providing) a solution to purported deficits in democratic engagement, despite being useless in the last policy round, and a unicorn policy, a mythical beast, prevalent, and much discussed but never discovered in replicable form in any health-care system. This zombie/unicorn hybrid creates PPI as a form of busywork in which the politics of social movements are entirely displaced by technocratic discourses of managerialism".
If you're involved in PPI, don't be offended by this last paragraph! The paper may be, as the authors describe it, "a provocation", but it is well-founded, well argued, and raises important issues that deserve serious consideration.
Monday June 26th 2017
Why it's hard to act on patient feedback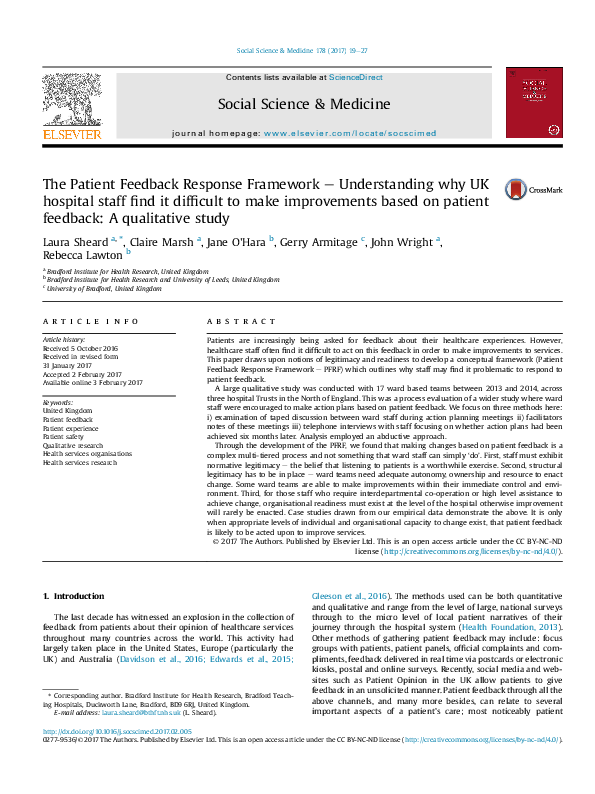 "Patients are increasingly being asked for feedback about their healthcare experiences. However, healthcare staff often find it difficult to act on this feedback in order to make improvements to services."
So says a recently published study based on work with staff in three separate NHS Trusts.
The authors note that a growing international body of evidence suggests that patient experience, safety and clinical effectiveness are inextricably linked. But in spite of the wealth of feedback now available to healthcare services, there is little evidence that this has led to improvement in the quality of healthcare. "Simply providing hospitals with patient feedback does not automatically have a positive effect on quality standards".
Why is it that hospital staff find it difficult to translate patient experience into service improvement? The study points to three factors:
Normative legitimacy: To what extent are staff receptive to patient feedback? Is good patient experience seen as essential to safety and clinical effectiveness, or as a "nice but not necessary" add-on to clinical priorities?
Structural legitimacy: To what extent are staff teams (on a ward, say) empowered to identify and act on service improvement opportunities prompted by patient feedback?
Organisational readiness: Where staff teams need support for improvements from other parts of the hospital or the wider Trust, how ready are those other staff teams to pitch in and help?
The authors conclude that:
Without the moral imperative to listen to the patient voice, improvement rarely takes place.
Staff must have sufficient autonomy, ownership and resource in relation to a problem in order to enact change.
Insufficient organisational readiness usually blocks action planning.
This is a must-read paper, full of analysis and insight that will strike a powerful chord with anyone who has worked at the front line of NHS patient feedback and quality improvement.
Thursday June 22nd 2017
When patients go unheard, people die.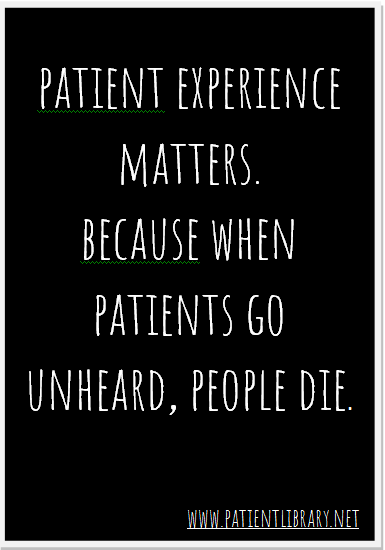 "It is vital that the lessons, now plain to see, are learnt and acted upon, not least by other Trusts, which must not believe that 'it could not happen here'. If those lessons are not acted upon, we are destined sooner or later to add again to the roll of names.
The Report of the Morecambe Bay Investigation [into avoidable deaths]. Dr Bill Kirkup CBE, March 2015
"I had a meeting with a trust member and the analogy he used was that they were a bit like British Airways and it was like losing baggage. I really couldn't believe what the person was saying to me. It was harrowing.
Parent of a patient who died in the care of the Southern Health Trust. December 2015
We know why patient experience matters. It's because when patients go unheard, people die.
The best known example is the disaster at the Mid Staffordshire NHS Foundation Trust, where a series of unnecessary deaths led to the landmark Francis Inquiry. In his report, Sir Robert Francis was unequivocal about the reason for what he described as "appalling suffering" in the Stafford hospital. He said that it "was primarily caused by a serious failure on the part of a provider Trust Board. It did not listen sufficiently to its patients."
We think of Mid Staffs as a particularly low point in the history of the NHS. But it is not the only one.
Two years after Francis, the Kirkup inquiry revealed unnecessary deaths of mothers and babies in a maternity unit run by the Morecambe Bay NHS Trust. The inquiry report said that patients and relatives had encountered "defensive 'closed' responses, delayed replies, and provision of information that complainants did not find to be accurate."
Soon after that, the Mazars review into unexpected deaths at the Southern Health NHS Foundation Trust described "an ad hoc and inadequate approach to involving families and carers in investigations".
Different places, different providers, different services. But all joined by a common thread: a failure to value patient voice.
There is more. A review of unexpected deaths in a maternity unit run by the Pennine Acute Hospitals Trust said that "Staff attitude has been a feature of a significant number of incidents". A Parliamentary and Health Service Ombudsman report into the death of a three year old child in Devon said that "local NHS investigation processes were not fit for purpose and they excluded the family".
People sometimes think that "patient experience" means dealing with grumbles about appointments, car parking and hospital food. Or compiling Family and Friends Test reports, and wondering whether anyone will actually read them.
The nitty-gritty of patient experience may seem trivial. But the patient voice is the canary in the coalmine. It is an early warning system that can help managers to spot that all may not be well at the front line.
A patient-centred NHS will take every piece of patient feedback seriously. Because when patients go unheard, people die.
---
The Care Quality Commission is asking for people's views on "How can we assess how well providers review, investigate and learn from deaths?" The consultation is open until the 14th July 2017. Details here.
The Patient Experience Library's submission to the consultation can be seen here.
Thoughts? e-mail us: info@patientlibrary.net
Tuesday June 20th 2017
The state of patient experience - 2017
There are important differences between the American and British health systems. But that doesn't mean we can't learn from our US colleagues.
The Beryl Institute's "State of Patient Experience 2017" report is based on a survey of 1,644 healthcare organisations, both within and outside the US. It has some interesting findings that could be relevant to how patient experience work is carried out in the UK. Consider these points :
Patient experience was seen as the top organisational priority, but employee engagement/satisfaction was second. There seems to be an understanding that happy staff equals happy patients.
In US hospitals, investment in patient experience staff is growing year on year.
In US hospitals, the leadership's desire for improved patient experience is just as much a driver for action as government-mandated measures. The top two supporting factors are "strong visible support from the top" and "formal PX structure or role". "Highly engaged staff" are seen as a further key factor in achieving positive patient experience.
The overarching message seems to be that leadership, investment, a formal PX role and engaged employees are key drivers for better patient experience. It's what might be described as a "whole system" approach.
As Sustainability and Transformation Partnerships start to pick up their momentum after the general election lull, those leading STP's would do well to bear the American learning in mind.
Almost all STP's mention "improved patient experience" as a desired outcome. Achieving that requires a systematic approach, with focused leadership, plus investment. In the detail underpinning STP planning, that needs to be stated.
Tuesday June 13th 2017
Patient/public involvement: Should money come into it?
Patient/public involvement: Should money come into it?
Across the UK health and care sector, many thousands of people are involved as patient/public representatives. As committee members, research participants, focus group contributors and survey respondents, they offer huge amounts of time and "expertise by experience" - nearly always as volunteers.
If patient and public input to the sector's learning and development has a value, should the value be recognised? Should our volunteer contributors become paid contributors?
Canada's Change Foundation has considered the issue. They recognise that payment for patient and public involvement (PPI) could undermine the ethos of volunteerism, or could engender a sense that opinions are being bought, rather than freely sought.
But they also consider the downside of volunteerism. This includes the possibility that expecting people to participate without payment could mean that low income patients are excluded from deliberation and debate. This matters in the context of health inequalities, where the most vulnerable in society are already relatively voiceless.
The authors state that they are "neither for nor against paying. Our concern is to work within the principles of fair, equitable and barrier-free public engagement". So they decide the payment issue on a case-by-case basis.
To help them do so, they have developed an easy-to-use decision tool. This sets the question of payments for PPI against parameters that guide decision makers towards a rational outcome.
By using the tool, you may or may not end up paying PPI participants. But at least you'll be able to explain how you have come to your decision
Tuesday June 6th 2017
Earth to Simon Stevens: Invest in patient experience
People involved in patient experience work can sometimes feel overwhelmed by the quantity and variety of reporting. There is a constant flow of feedback and reports from the CQC, Healthwatch, Friends and Family Test, Care Opinion, NHS Choices and more. Methods and approaches can change over time, making it hard to get a baseline for patient experience, or a sense of whether things are getting better or worse.
The Adult Inpatient Survey is a refreshing constant in the reporting landscape. The 2016 survey, just published, is the 14th of its kind, and so is able to offer insights into inpatient experience over the long term. The good news is that traditional patient bugbears - communication, cleanliness and hospital food - all show signs of improvement. Confidence and trust in clinical staff has also, encouragingly, gone up.
The spanner in the works comes from what the Picker Institute (which co-ordinated the survey) describes as "significant declines in key areas of person centred care".
Fewer patients feel involved in decisions about their care and treatment. Fewer report positive experiences of leaving hospital. And fewer believe they are getting enough help to recover and manage their condition. All this will come as a blow to an NHS that wants to help patients to be more active in self-managing their conditions.
Picker comments that "the results highlight a risk that improvements of the past could be lost if trusts and policy makers fail to keep the provision of high quality person centred care a top priority". We agree.
Publication of the report highlights two issues that are vital to a well-functioning NHS. The first is transparency. Publication of findings like these - consistently, and over many years - help us all to see what works, and what doesn't, from the patient's point of view.
The second is the value of patient experience work. Small investments in rigorous survey work can reveal insights (such as a possible threat to patients' ability to self-manage) that could cost the NHS very large sums of money.
The report has a clear message to Dept of Health policymakers: there are significant declines in key areas of person centred care. It also has a clear subtext: patient experience work offers valuable insight. And that is worth investing in.
Tuesday May 30th 2017
STP's versus public opinion - a divergence of views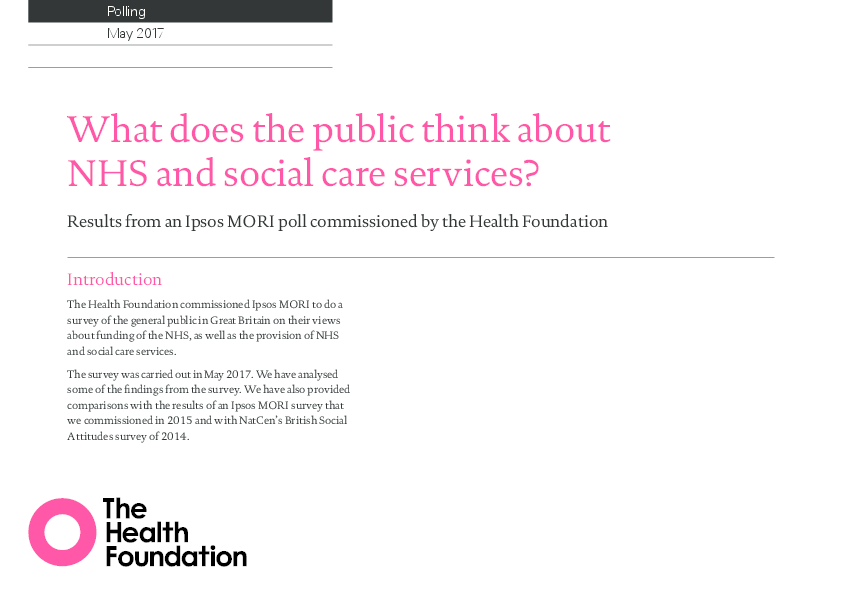 NHS England's Five Year Forward View promises a "radical transformation of patient experience". But this report from the Health Foundation indicates that the general public expect their experience to get worse, not better.
According to polling by Ipsos Mori, 44% of people think the general standard of NHS care has worsened over the past year. And almost half (48%) think it will get worse over the next year.
Some people might argue that polling results of this kind are not worth having - that they are based on people's ill-informed opinions rather than rational and objective analysis of the state of care.
Our view is that public opinion is always worth having. We all use NHS services, and so do our nearest and dearest. We all have a pretty good idea of how good those services are. Top commercial brands know about the value of public opinion - however subjective it may be. They listen very carefully to what people think of their services.
Of course, corporates cross-check customer feedback against rational and objective evidence - for example, sales figures and financial returns. And this is where the NHS comes unstuck.
The Five Year Forward View is to be implemented through 44 Sustainability and Transformation Partnerships. Their published plans all mention improved patient experience. But few, if any, have set baselines for current levels of patient experience, or set targets for how and when patient experience will be improved.
The general public are pessimistic about improvements in care and patient experience. STP's are optimistic. It looks worryingly as though planners and strategists are out of touch with public opinion.
Sustainability and Transformation Partnerships need to put forward measures that show the general public that the promised "radical transformation of patient experience" is on its way. The alternative is to accept that, perhaps, the public may be right.
Tuesday May 23rd 2017
Patient and public involvement: Breaking organisational boundaries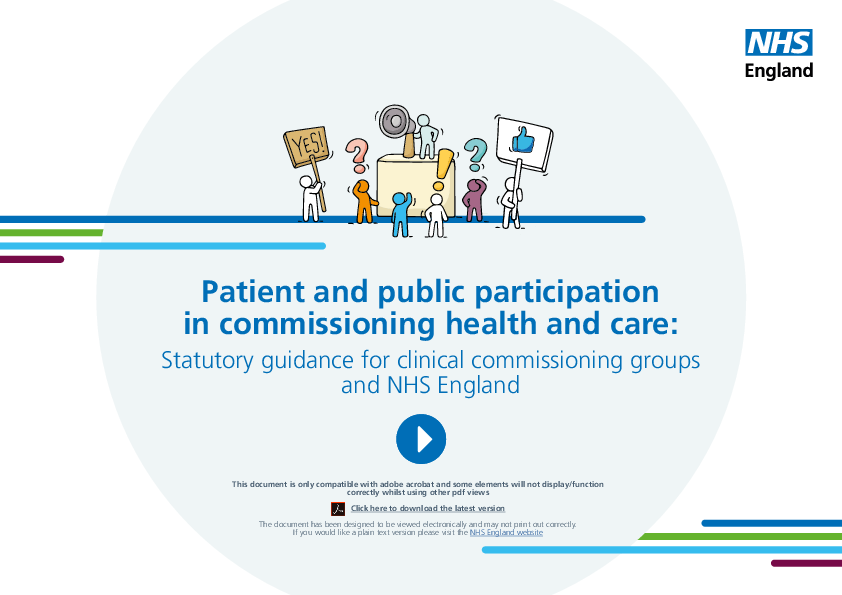 "People tend not to care about organisational boundaries, but about how services can work better for them and their families." So says Helen Hirst, CEO of a group of Yorkshire CCGs, in NHS England's statutory guidance on public participation in commissioning.
She's right. But the same should apply to health professionals located within NHS organisations.
If we can only see as far as our own organisational boundaries, we'll never understand properly how services can work better for patients and communities. We need to see what has been tried elsewhere, and to learn from other organisations' successes - and failures.
The problem for patient engagement leads is that the learning is hard to track down. There is a wealth of knowledge on patient and public involvement, but it is scattered across hundreds of different websites - from Healthwatch, through various NHS bodies, to national charities and think tanks.
We have brought it all together in the Patient Experience Library because we don't think it's right that while clinicians have access to professional knowledge databases as a matter of course, PPI leads have to resort to Google.
We're delighted that the library is mentioned in NHS England's statutory guidance, and we're talking to the Dept of Health and others about how we can open up the library to NHS trusts and CCGs.
Tuesday May 16th 2017
Participation does not come naturally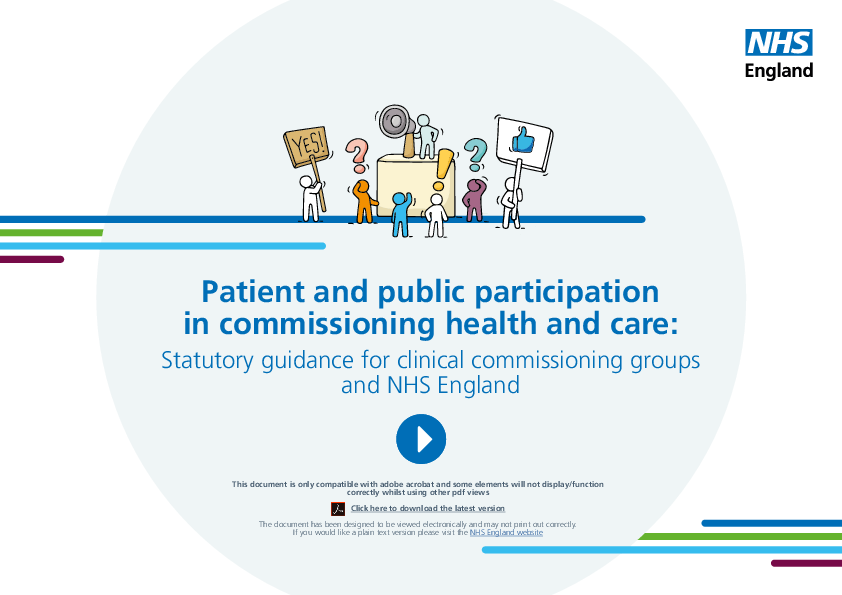 Participation should be natural, says Rob Webster, Lead CEO for the West Yorks and Harrogate STP. His comment is the opener to NHS England's statutory guidance on patient and public participation in commissioning health and care.
We agree - sort of.
Participation should indeed be a natural part of NHS commissioning. But that doesn't mean that it comes naturally. In fact, it usually comes with lots of toil, sweat, and - sometimes - a few tears.
Patient and public participation is not easy. And that's why this excellent guide from NHS England is so welcome. At 32 pages, it is comprehensive. But it is broken down into clear sections, with lots of hyperlinks to take readers to further guidance and resources if they want.
The sections cover matters such as the policy and strategy context, participation frameworks and principles, and ten "key actions" for CCGs on how to embed involvement in their work.
We were delighted to see the Patient Experience Library mentioned as a useful resource, and there are plenty of other helpful pointers in the guidance as well.
Rob Webster is right - participation in NHS commissioning should be natural. This guide is an important help for people who are trying to make it so.
Tuesday May 2nd 2017
This is why insight matters
After Mid Staffs and the Francis Inquiry, you might think that lessons had been learned about treating statistics and performance indicators with caution. Francis was clear that "appalling suffering" and avoidable death at the Stafford Hospital occurred because the Board and management of the Trust spent too long looking at figures and not enough time listening to patients.
In spite of that, the view persists among some health professionals that quantitative data is "hard" data, and that patient stories are simply "anecdotal".
It is not unusual for patient voice champions such as Healthwatch to be challenged on the value of their report findings. A common question is about sample size and statistical validity. Sometimes, challenges of this kind are fair. Mostly, they completely miss the point.
This report, from Healthwatch Essex, takes key statements from a group of carers and turns them into poetry. The sample size was small. But the insights are profound.
There is nothing in this report that lends itself to "hard" statistical analysis. But if you want to know what it feels like to have to agonise over putting a loved one into a care home, read this report. It says more about patient and carer experience than a table of numbers ever could.
That is why insight matters.
Monday April 24th 2017
This is what compassion looks like
Every week, the Patient Experience Library trawls hundreds of websites, searching out new publications to add to the UK's collective evidence on patient experience.
We read thousands of reports every year. Most are good, some are excellent. This one, from Healthwatch Essex, is astonishing.
The work is based on a series of interviews with people who have had to arrange residential care for a loved one.
The interviews were transcribed and thematically analysed so as to draw out poems from people's experiences.
The result is powerful and moving testimony, describing the love, pain, guilt, sadness and loss that people feel when having to "put someone in a home".
There is much talk in health and care services about "person-centred care". Some of it can be convoluted, focusing on definitions and procedures. This report (perhaps we should call it an anthology) shows what caring for someone really means, and takes us deep into the experiences of people trying to do their best for loved ones who are moving beyond their reach.
A wonderful piece of work, displaying an innovative approach, and true compassion.
Tuesday April 18th 2017
(Still not) Learning from Mistakes
The Shrewsbury and Telford Hospitals (SaTH) NHS Trust has been in the news recently, following a series of avoidable deaths of babies.
Four years ago, the final report of the Francis Inquiry into the Mid Staffs disaster said this, "The suffering of the patients and those close to them ... requires a fully effective response and not merely expressions of regret, apology and promises of remedial action. They have already been at the receiving end of too many unfulfilled assurances".
Compare that statement with this, from one of the mothers whose baby died in the care of SaTH: "To hear that this (mistake) has happened before - it's just another blow. I've had an apology from the hospital, and assurances that this won't happen again. But other families have had those assurances and those apologies and if those were followed up, in the way that they said that they would, then I would have my daughter".
It would appear that Sir Robert Francis's warning about "unfulfilled assurances" has not been heeded.
In March 2015, the report of an investigation into avoidable deaths of mothers and babies at the Morecambe Bay NHS Foundation Trust said "It is vital that the lessons, now plain to see, are learnt and acted upon, not least by other Trusts, which must not believe that "it could not happen here". If those lessons are not acted upon, we are destined sooner or later to add again to the roll of names".
In June 2016, the Royal College of Obstetricians and Gynaecologists (RCOG) "Each Baby Counts" report looked at intrapartum and neo-natal deaths. It said "Many national reports have highlighted the fact that the same mistakes are made repeatedly, which suggests that our risk management processes may not be mitigating risk as we hope".
In July 2016, the PHSO's "Learning from Mistakes" report into the death of a three year old child said "local NHS investigation processes were not fit for purpose, they were not sufficiently independent, inquisitive, open or transparent, properly focused on learning, or able to span organisational and hierarchical barriers, and they excluded the family and junior staff in the process".
At Mid Staffs, Morecambe Bay and Shrewsbury and Telford, avoidable deaths occurred for different reasons. But a common thread running all the way through was a failure to hear from patients, and, in some cases, outright denial that patients had valid cause for concern.
A second thread was the failure to learn from mistakes. This includes a failure to treat patient feedback as a fundamental part of risk management. PALS teams and patient experience leads should be seen as an early warning system - the "canary in the coalmine" that can help NHS Trusts to spot that all may not be well on the wards.
We welcome Jeremy Hunt's call for an inquiry into the Shrewsbury and Telford deaths. But we worry that it will simply add to a growing pile of inquiry reports that all draw similar conclusions.
The NHS needs to start learning from its mistakes - particularly in respect of learning to listen to patients. Repeated "unfulfilled assurances" are a disaster, as are repeated "filed and forgotten" inquiry reports.
We have created the Patient Experience Library so that vital learning does not get dissipated and lost. We will be writing - once again - to Jeremy Hunt and Simon Stevens to call for more support for PALS teams and patient experience leads.
Tuesday April 11th 2017
Investing in patient experience: House of Lords weighs in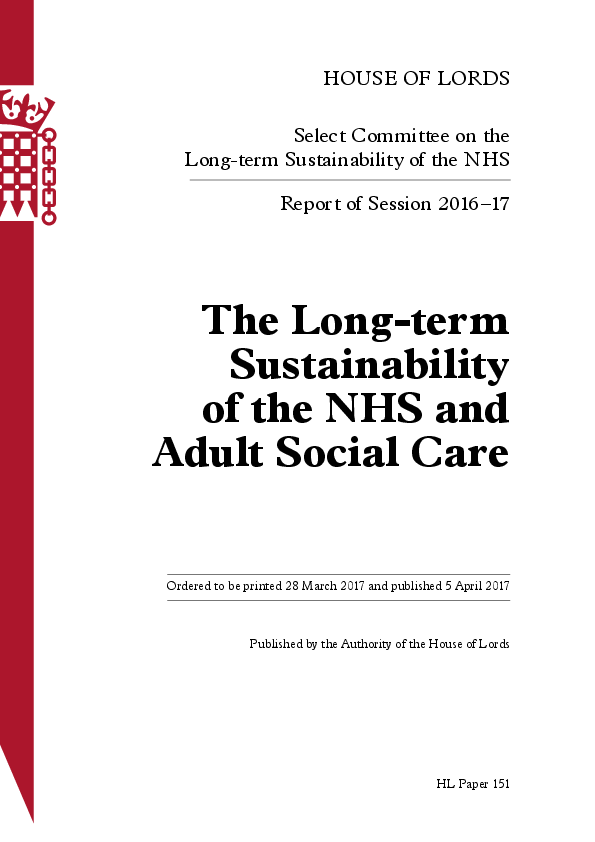 If you only have time to read one report this week - or even this month - read this one.
The House of Lords Select Committee's report on the Long-term Sustainability of the NHS is a breath of cross-party sanity, recognising issues and concerns that people in the NHS and care services have been talking about for years.
Among many forceful statements, we picked out this one: "We are concerned by the absence of any comprehensive national long-term strategy to secure the appropriately skilled, well-trained and committed workforce that the health and care system will need over the next 10-15 years."
"Workforce development" does not just mean clinicians. Fundamental to a patient-centred NHS are skilled, well-trained and committed patient experience leads. They can spearhead NHS England's goal of care that is "person-centred, coordinated, and tailored to the needs and preferences of the individual, their carer and family".
Last July, the PHSO's "Learning from Mistakes" report called for more support for PALS teams. We have done the same in Patient Experience Library reports including "What Price Patient Voice" and "Flying Blind?"
We are now looking at assembling these, and other evidence sources, to produce an investment case for PALS teams and patient experience leads. We'd like to know what you think. Please get in touch.